Meet our partners: FEP
Clara Pont
Gino Querini, PhD, is Project Officer at FEP
FEP is an independent, non-commercial umbrella association of book publisher associations in the European Union. FEP represents 29 national associations of book publishers of the European Union and the European Economic Area. FEP is the voice of the great majority of publishers in Europe. Founded in 1967, FEP deals with European legislation and advises publishers' associations on copyright and other legislative issues.
As FEP is an association representing 29 national associations of publishers of books, learned journals and educational resources from all over Europe and acting as the voice of the great majority of publishers in Europe, which is the value that Möbius is deploying in this sector?
Möbius is exploring an emerging form of readership that holds potential for publishers in the future, including developing new tools to engage with prosumers. Prosumers are more and more relevant for the book market, as several famous literary best-sellers show, and engaging with such readers and writers transparently and fruitfully seems the next natural step for publishers. Fan fiction and other creative practices of engaging with stories are great ways for readers to immerse themselves in books and to foster new forms of communication with more traditional publishers and writers alike.
Technologically, the Möbius Book is fascinating, and the whole Möbius environment holds some promise for ebooks in general: publishers look forward to the audiovisual innovations brought by Möbius.
Lastly, Möbius is exploring the market potential of prosumer audiences, and FEP is interested in following the development of this research to bring the publishers' perspective and insights to it. Our goal is to enrich the understanding of prosumers' practices from the point of view of the book industry, positively connecting the two.
Furthermore, why do you think that the European publishing sector needs Möbius?
Global trends in readership indicate that prosumers' behaviour influences the market in multiple and unexpected ways (as is the case, for example, with TikTok content related to books – the so-called BookTok), as well as that prosumer dynamics hold potential for publishers: just look at how fan content grows in tightly-knit communities only to be later picked up by publishers and explode globally. Furthermore, collaborative reading and writing forms, as in fan communities, have yielded positive effects regarding reading comprehension and engagement.
Despite the promising nature of these elements, there aren't any major European players in the field. Issues such as linguistic fragmentation, a lack of shared understanding of the subject, and a lack of dedicated resources have slowed down a truly European approach to this new form of reading and writing. Hence, Möbius is a good way for the two worlds to meet not only by European design through-and-through but also focuses on active and reiterative interaction with publishers. The project will allow European publishers to enter a relatively unexplored world without having to rely on external platforms, and this will allow for the interaction between publishers and prosumers to be explicitly tailored to European markets and audiences.
Which is specifically your role in the project?
FEP acts as a liaison between publishers and the project regarding knowledge of the sector and active engagement with publishers. FEP contributes to the project by disseminating updates to European publishers, encouraging publishers to participate in Möbius co-creation sessions, especially regarding the Prosumer Intelligence Toolkit (PIT), and providing its sector know-how and expertise towards several other objectives of the project (from the reflection on business models to the analysis of IP frameworks). As FEP's network spans Europe and has very well-documented expertise in European affairs, FEP acts as a multiplier to Möbius activities and as a liaison among several stakeholders across the European publishing value network.
FEP's unique vantage point on the publishing sector makes it the ideal partner to pr vide valuable insights on several aspects of Möbius.
Going to the bookshop or the library and picking up a book, smelling it, turning up the pages, holding it in our hands. There are no screens, audio, or video: just imagination and a vast river of words where our eyes swipe. The physical book has adopted a lot of prestige over the years. How do you think publishers and readers all over Europe are experiencing the digital transformation?
Digital publishing has been steadily affirming itself for years; while this is happening unevenly depending on countries and sectors, digital publishing (which is not limited to books but also includes magazines, newspapers, comics, etc.) is here to stay and is becoming more and more ubiquitous across the continent.
Certain readers are more passionate about reading in print. For example, comic readers are very enthusiastic about their print copies. At the same time, digital opens untapped possibilities regarding backlist availability, distribution, and ease of use. The Covid-19 pandemic has shown how younger generations are still captivated by stories, even in digital form, and how they could sit in front of a "virtual" fireplace to read and listen together – which is what Möbius is all about in the end!
Furthermore, the flexibility of digital publishing is highly relevant both in terms of accessibility and sustainability: digital allows for audio synthetisation, character size adaptation, different forms of lighting, etc. In short, digital provides access to books in previously impossible ways. Also, digital allows optimising certain practices in the publishing ecosystem and therefore contributes to minimising waste and pollution.
However, I don't want to present digital as the solution to all the issues in the world of publishing: piracy is a huge challenge, which digital greatly facilitates; big retail platforms leverage their position to suffocate diversity; and overall, an unbalanced ecosystem threatens realities that cannot keep up with digital speed in terms of marketing, distribution, and overall penetration. Publishers might be damaged by the perceived lesser value of digital products, not only on the readers' side but also by other stakeholders. Education on the nature of digital publishing is needed to properly exploit its potential!
And how do you think it will understand the value and purpose of the Möbius initiative as a society?
Möbius tries to bring a reality that is not wholly understood both by readers and publishers at large to the forefront of the publishing ecosystem while at the same time it is developing several tools that have the potential to impact significantly digital reading: new forms of audio, new multimedia books, new tools to create communities of readers and writers. In short, Möbius is trying to be the catalyst for a change in reading habits that goes against several prejudices and stereotypes. So as a consortium, we do face huge challenges!
I think younger readers will be eager to adopt Möbius, the Möbius book, and the way of writing that Möbius is championing. In part, they already do, so Möbius is offering them new, more creative ways to express themselves and experiment. I believe the participative nature of Möbius' activities and Möbius' immersive experiences will prove pivotal to bringing Möbius to the more experimental readers and from them to larger reader communities.
Finally, it would be much appreciated to know what you expect from the Möbius project.
As FEP, our general expectation for Möbius is that it will usher in more excellent knowledge and more collaboration with sectors of readership and publishing otherwise less known by both professionals and laymen. We expect new ways for publishers to engage with readers and to have their works reach unexpected audiences. We hope the creation of original ways to find unknown talents. We expect Möbius to bring a somewhat niche form of reading and writing to the fore and that this will make creative forms of collaboration flourish. We see potential in both Möbius' innovations and targets. We know that once publishers see the project and its activities better, they will be eager to participate and build on it, well beyond its nominal limits.
As for the project's outputs themselves, we expect that Möbius' tools will help publishers to understand their readership better and that the data research carried out by our partners will apply not only to the expected target of the project (i.e., prosumer communities) but also to other sides of the publisher-reader relationship, such as social media engagement. In short, we expect Möbius to extract a great deal of actionable know-how from prosumer reading dynamics, and this know-how will impact the publishing environment at large. We are particularly excited about tools that facilitate understanding trends and practices harder to spot at their inception. A great deal of digital reading practices is, in fact, still not completely understood, such as how certain content becomes suddenly trending or viral. Therefore, knowledge of these phenomena, with instruments allowing to understand them in depth, is welcome.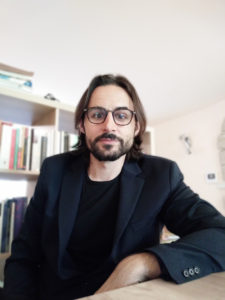 Gino Querini, PhD, is Project Officer at FEP since 2021. Before joining FEP he has been a trainee at EACEA working on several EU programmes such as Creative Europe, Solidarity Corps, Erasmus Plus, and others. Before that he had obtained a PhD in Philosophy at the National University of Ireland in Galway (NUIG), where he also worked as teacher and curator.
At the Federation his work is focussed on EU projects part of different programmes: Creative Europe (Eudicom Sidt, Aldus Up), Erasmus + (EfDP), Horizon2020 (Möbius) and the pilot project creativeSHIFT.