Meet our partners: Bookabook
Clara Pont
Tomaso Greco is a PhD in Philosophy and Sociology of law, and is the CEO and co-founder of Bookabook.
Since 2014, Bookabook has been crafting a new model of publishing where readers are the protagonists in the life of books. It empowers readers to choose, participate and bring books to the shelves of bookstores and help, through word of mouth, to write about their success.
In 2014 you decided to give the reader an active role in the book's publication and created Bookabook. Since when did you identify the need for a change?
We wanted to craft a new model of publishing where readers were protagonists in the life of books. So, we decided to empower readers to choose, participate, bring books to the shelves of bookstores and help, through word of mouth, to write about their success. The challenge was to give readers a new, central role in the life of books. Years later, the challenge can be said to be both won and still all before us. We never stop innovating, trying and finding new ways.
Which is the objective for you to create communities of readers as publishers? Which is the relationship between the readers of a community? What differentiates a publisher who plays an active role in the book's publication from another who does not?
Our publishing house mixes the power of crowdfunding and research for the quality of the traditional publisher. Crowdpublishing (technically crowdfunding + publishing) is a mixed model between community activation (the core of crowdfunding) and traditional publishing production, creating a community of committed readers around each book (even before it's published!), generate a strong and broad word of mouth, engage new readers and define new ways to discover literature. We published over 250 books and projects, creating a solid and growing network of more than 200k readers divided by literary tastes, behaviours and attitudes.
Crowdfunding has proven to be an extraordinary tool for creating communities in many areas, especially in publishing. Some of the most widely read books of recent years have become such through crowdfunding; think of Goodnight Stories for Rebel Girls, an international bestseller born on a crowdfunding platform.
In the Italian book market, building a readership is even more important. According to AIE (The Italian Publishers Association) data, the main levers for selling a book are the author's notoriety and word of mouth. A publishing house has to choose whether to publish exclusively authors who are already well-known (for literary or professional reasons) or to bet on newcomer writers by building strong word of mouth.
This is what crowdfunding is for: building a community of readers and kick-starting word of mouth even before the book hits bookstore shelves.
The main potential of crowdfunding is to build a community of readers around a publishing project. Readers are generally active if they are involved and if they feel the project is not a private matter between the author and publisher but something they feel a part of. Word of mouth is crucial during the crowdfunding campaign and once the book is published.
During publishing crowdfunding, the goal is not to sell a book that is not there yet but to involve readers in the whole project. Readers participate in a project by feeling part of it after reading the introduction and preview. After all, that is what readers generally do even in bookstores: they read the back cover and, if interested, read the first few pages. Only then, if they are convinced, do they take the book to the checkout.
Business is business, even in a creative sector such as the publishing industry. Which is your opinion about the business models still used today to publish books?
Business models in the publishing world often react to innovation by closing themselves off and defending positions and reputations gained over time. We believe that publishing can and should see innovation as a stimulus, a challenge, and ultimately a tool to offer readers, booksellers, and the entire industry engaging and quality experiences. Innovation cannot be seen as a threat. Not least because readers, in their spare time, are not just readers: they listen to music, watch movies and TV series, play video games. These are all experiences that innovation has radically transformed in recent years. So, there is a legitimate desire and expectation for innovation that publishing should see as a major opportunity.
You have an extensive role in the Möbius project, could you tell us a little more about it from your point of view?
Given our new publishing model – which is quite different from the traditional one – we strongly believe that the Möbius project is akin to our perspectives and ideals. Therefore, we decided to participate in this innovative project and contribute as the first publishing house in Italy to publish by crowdfunding. Möbius will renew the European publishing sector by creating methods and tools to leverage the potential of prosumers in innovation processes, in order to develop new enriched media experiences that are user-centric and user-driven – namely, a modern book in the spirit of Möbius.
The Möbius book enables cross-media, interactive and immersive book experiences to support physical and virtual social interactions. The involvement of prosumers in developing the Möbius book experience – through participatory activities based on living lab approaches – is a breath of air in a fairly conservative industry that looks at innovations with a rather critical eye. Through the Möbius project, we can demonstrate and validate the relevance of new media experiences in the ePublishing field.
You are also leading one of the important outputs of the project: the Möbius book pre-production and the production. Could you explain the purpose of the Möbius Book and how will it be created? Why has the Möbius Open Call been so important?
The publishing sector needs to revisit its traditional value chains and business models, and to establish practical cooperation with prosumers, to reaffirm its place as a fundamental economic and cultural agent in the digital age.
The stages that lead to the realization of the Möbius book are the following: 1) iterative involvement of prosumers in co-creation and prototype refinement workshops; 2) creation of two Möbius book experimental productions with the involvement of media artists, one of which will be based on an original manuscript selected from an open call; 3) validation of the experimental productions in large scale open pilots with prosumer and user groups. Möbius' principle is that every prosumer (authors, influencers, beta-testers and early adopters) has the potential to contribute value to the publishing industry and can actively collaborate in a user-centred innovation process leading to Möbius results.
Möbius enriches the book experience with cross-media productions: the digital version of the book, the 3D audiobook and the audiovisual content. This will allow users to enjoy a cross-media reading experience or to switch from one experience to another (e.g., print, eBook, audiobook) following their preferences. By using 3D audio technologies, the Möbius book would also guarantee an outstandingly immersive experience. Moreover, it can be implemented using the EPUB standard for interoperability with most eReaders. The minimum gear users need to enjoy an immersive book experience is a regular mobile device (e.g., smartphones or tablets) or a desktop computer, as long as they have audio output.
The project will develop two Möbius books. The first Möbius book experience, The influence of blue, is based on the novel L'influenza di blu by Giulio Ravizza. Bookabook published it in September 2019 after a crowdfunding campaign supported by over 300 users. The initial manuscript of this novel was shortlisted after an editorial-led quality filter and then exposed to user communities for pre-ordering support. The Möbius book will publish some excerpts translated into English to facilitate international user engagement.
The second Möbius book experience, Fantasy, will be based on the winning manuscript by Filippo Rubulotta, which was selected by an evaluation committee formed by project partners after an open call. The eligibility criteria used to select the manuscripts were originality, language, aptitude for transformation into a cross-media product, and relevance to the parameters of the literary genre. We received 191 manuscripts from all over Europe. We made a careful selection based on parameters predetermined by the call for manuscripts and in particular, originality, writing style and the power of the idea, alignment to the theme 'the future we dream about', and its potential for creating a compelling multimedia experience (e.g., through rich sceneries, soundscapes, dialogues, etc.).
Finally, it would be much appreciated to know what you expect from the Möbius project.
We strongly believe in the Möbius project because, being in line with our perspectives and ideals, we think it can bring a breath of fresh air to the publishing industry, staying this way abreast of the progress of the digital age and proposing interesting innovations that put the user at the core of the process. We expect the project to have excellent results in invigorating the European publishing sector by providing them with methods and tools to leverage the potential of prosumers in innovation processes and thus guaranteeing user-centric and user-driven perspectives in the design and delivery of new enriched media experiences. There are many challenges, but we are more than ready to face them with the right spirit and, through close cooperation among the project's partners, to overcome them by aiming for the best results.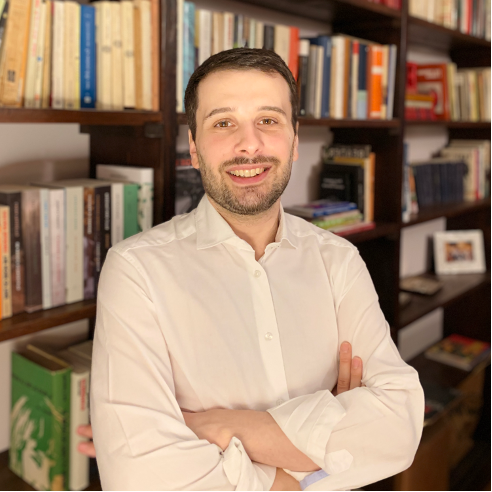 Tomaso Greco, PhD in Philosophy and Sociology of law, is the CEO and co-founder of Bookabook. He has been a contract professor at the University of Insubria, where he taught the Sociology of Law and the Sociology of Public Administration. He developed crowdfunding and online community creation skills during specific research on crowdfunding as a driver of innovation in the media sector. Recently he took part in the Yale University School of Management book publishing innovation week.