The European Project Möbius organised a policy workshop on 'Book publishing in the age of platforms'
Mobile World Capital Barcelona
The European Commission gave an introductory speech in the session, and it followed by a panel of experts and practitioners
Möbius organized an online policy workshop on 'Book publishing in the age of platforms'. The workshop lasted two hours and 47 people participated. It looked at the relationship between publishers and platforms from several points of view, highlighting the challenges and opportunities for publishers related to technology, business models and the legislative framework. A panel of experts, practitioners, and policymakers conducted the discussion, exploring the various aspects of the subject. This initiative has been a collaborative effort within the consortium, coordinated by Mobile World Capital Barcelona.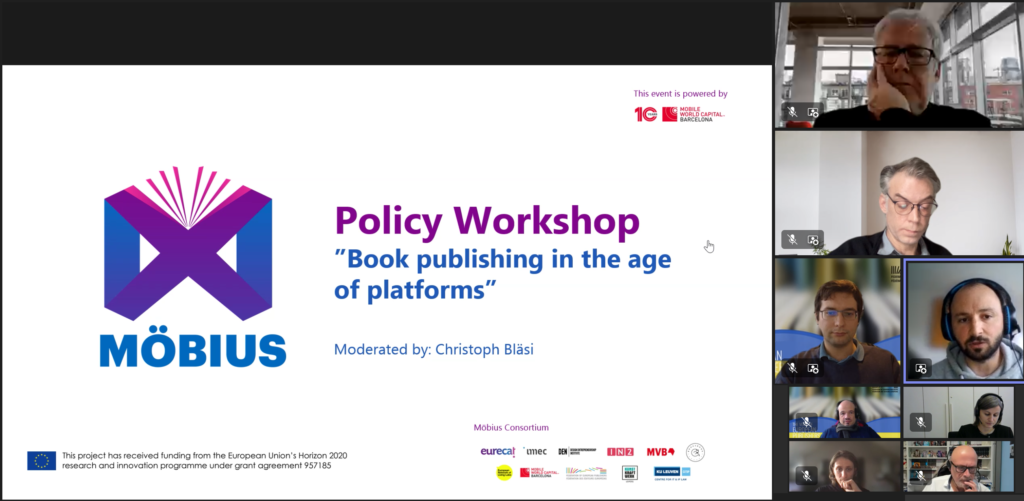 The workshop
Simona De Rosa (Möbius representative) welcomed the presentation of the Möbius project and introduced the speakers. Gianpaolo Scacco (European Commission) provided an overview of regulatory developments in digital policies. His presentation highlighted how while online platforms bring several benefits to society and economy, they also raise several challenges for publishing in the digital age. For instance, online platforms are a privileged channel through which illegal content is disseminated online, including IP infringing content. This is particularly damaging for an industry like publishing, which relies on IP protection to thrive. He mentioned how the Commission already intervened to secure more effective forms of cooperation with online platforms.
Christoph Bläsi (Professor at the Johannes Gutenberg University of Mainz) moderated the session and made some introductory remarks on the relationship between platforms and publishers. Olivier Braet (Senior research associate at Guberna and former Möbius partner at IMEC) described four challenges from a business modelling point of view for publishers to reassess and rebalance their relationships with consumers, prosumers, and platforms. Quentin Deschandelliers (Legal Advisor at the Federation of European Publishers) pondered whether the Digital Markets Act offered an answer to certain platforms' dominant position towards publishers. Alexandru Stan (Innovation Manager at IN2 Digital Innovations) spoke about the challenges and opportunities related to technology in the relationship between publishers and platforms. Q&A session followed and closing the event Simona De Rosa and Christoph Bläsi shared some conclusions with the audience.
Watch the workshop here!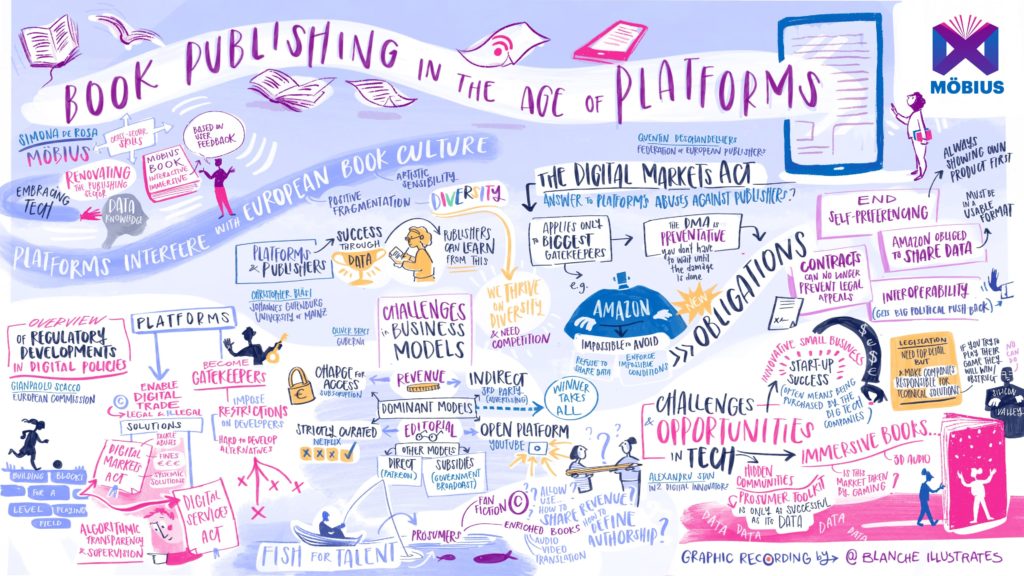 About Möbius
Möbius is an initiative funded under the European Commission Horizon 2020 programme that aims to modernize the European book publishing industry by remodelling the traditional value chains and business models. It aims to leverage the prosumers' potential to deliver new enriched media experiences. For more information, visit https://mobius-project.eu/