Möbius attends Salone Internazionale del Libro di Torino 2023 to test the Innovative Applications
admin
Almost 70 tests were completed and the Möbius Player positively impressed the testers
Möbius Project, represented by its partner ENoLL, attended Salone Internazionale del Libro di Torino, the Italian most important event for editors and publishers celebrated on 18-22 May 2023, to showcase and test the Möbius Innovative Applications to gather feedback from industry experts and potential end users to improve them.
The overall of the piloting was favourable, since a total of 68 answers were collected. Testers were positively impressed by the Innovative Applications, especially the Möbius Player, and they actually already wanted to use them in their lives. After proactively disseminating the Innovative Apps in the mornings during the fair days, visitors approached the Möbius table at the entrance of Lingotto Fiere exhibition centre (PAD 3 – Q14-R13) brought by curiosity to test and play with the apps. Also, attendees were happy to receive a free Möbius tote bag or notebook in exchange for their feedback.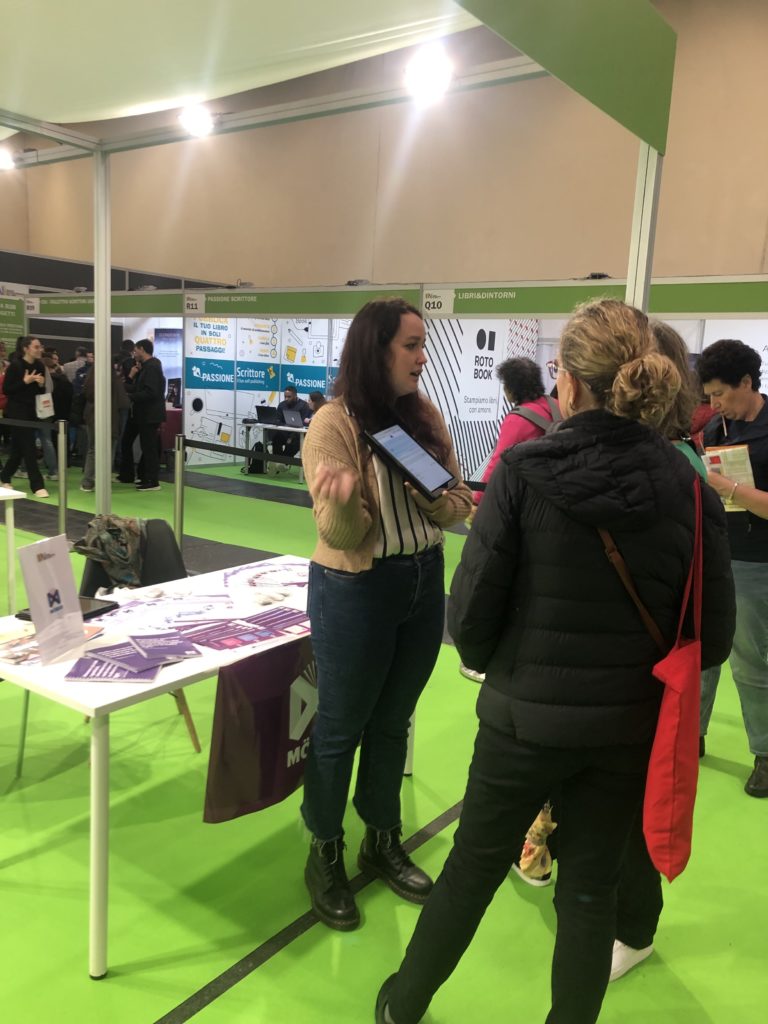 What are the Möbius Innovative Applications?
Möbius Innovative Applications consist of the Möbius Book (with a Player and a Creator app) and the Prosumer Intelligence Toolkit (PIT).
The Player is an interactive mobile application for readers to consume immersive books; while the Creator allows authors and hobby writers to transform their own stories into immersive experiences via a web application.
The Prosumers Intelligence Toolkit (PIT) is addressed to publishers, since they can find fanfiction insights integrated into the form of a data dashboard, collected from prosumer online fandom communities such as Archive of Our Own (AO3).
The Möbius consortium is focusing on attending book fairs and events to to test and improve the Innovative Apps all over Europe: Leipzig Book Fair, London Book Fair, Mobile World Congress, Book Pride Milano, and three events in Poland.
About Möbius, renewing the book experience
Möbius is an initiative funded under the European Commission Horizon 2020 programme that aims to modernise the European book publishing sector by remodelling the traditional value chains and business models uncovering the prosumers potential and delivering new enriched media experiences.
About Salone Internazionale del Libro di Torino
Every year the whole book community is brought together at Lingotto Fiere exhibition centre at Salone Internazionale del Libro di Torino. For publishers, the fair is the most important occasion for selling and presenting their latest publications. For its readers, the fair is the place where they can meet, discuss, be together and celebrate. For five days and five nights Turin opens its doors to the world since 1988.